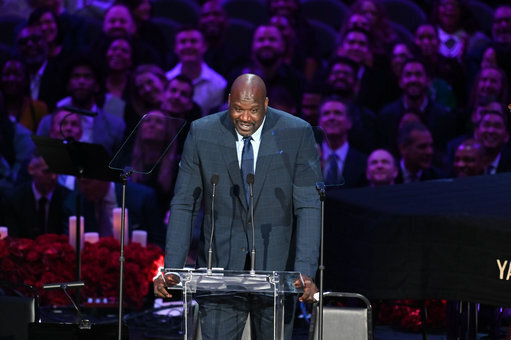 Shaquille Rashaun "Shaq" O'Neal, nato il 6 marzo 1972, è un ex giocatore di basket professionista, attualmente analista sportivo per le televisioni americane. Considerato uno dei più grandi giocatori nella storia della National Basketball Association, per comprendere quanto fosse dominante basta leggere le sue caratteristiche fisiche: 2,16 metri d'altezza per 147 chili di peso. La sua carriera lo ha reso una leggenda dei Lakers, ma O'Neal – per un totale di 19 anni da professionista – ha giocato, e vinto, anche per altre cinque franchigie.
Dopo il suo periodo alla Louisiana State University, gli Orlando Magic acquistano Shaq come prima scelta assoluta al Draft NBA del 1992. Diviene rapidamente uno dei migliori centri in campionato, vincendo il Rookie of the Year nel 1992-1993 e guidando la sua squadra alle finali NBA del 1995. Dopo quattro anni con i Magic, O'Neal firma da free agent con i Los Angeles Lakers, vincendo tre campionati consecutivi nel 2000, 2001 e 2002. Dopodiché, le tensioni con Kobe Bryant lo portano, nel 2004, ai Miami Heat. E in Florida, due anni più tardi, si aggiudica il quarto e ultimo Anello NBA della sua carriera. A metà della stagione 2007-2008 è oggetto di scambio con i Phoenix Suns, restando in Arizona un anno e mezzo prima di essere ceduto ai Cleveland Cavaliers nella stagione 2009-2010. L'ultimo capitolo della sua incredibile carriera conduce Shaq a firmare per i Boston Celtics, prima di ritirarsi al termine della stagione 2010-11.
I riconoscimenti individuali di O'Neal includono il premio MVP 1999–2000, il premio Rookie of the Year NBA 1992–93, quindici partecipazioni agli All-Star Game, tre premi MVP degli All-Star Game, tre premi MVP delle Finals, due titoli come miglior marcatore e tre selezioni nella squadra NBA All-Defensive. È uno dei soli tre giocatori ad aver vinto i premi MVP di NBA, All-Star game e Finals nello stesso anno (2000); gli altri giocatori a detenere questo riconoscimento sono Willis Reed (1970) e Michael Jordan (1996 e 1998). Shaq si colloca all'ottavo posto per numero complessivo di punti messi a segno, è quindicesimo nei rimbalzi e ottavo per quanto riguarda la classifica dei blocchi. O'Neal è stato eletto nella Naismith Memorial Basketball Hall of Fame nel 2016 e, l'anno seguente, nella FIBA ​​Hall of Fame.
Questa è la storia di un grande campione che ha cambiato la figura del centro in NBA, una storia che noi di Ti Quoto abbiamo voluto raccontare qui sul blog perché merita di essere ricordata e celebrata dagli amanti della palla a spicchi!